Hello Europe,
on April 23, 2022 at 14:00 (CET) the "EU Free Assange Rally" will start at Place de la Monnaie in Brussels: we celebrate our values and the journalist Julian Assange. (Video link)
Here we call on the European Parliament to take seriously its role as guardian of freedoms, human rights and democracy both in Europe and beyond – as it defines its role itself.

Members of the European Parliament must use their influence on European foreign and humanitarian policy and their close relationships with lawmakers around the world to finally free journalist Julian Assange from Belmarsh prison in the United Kingdom.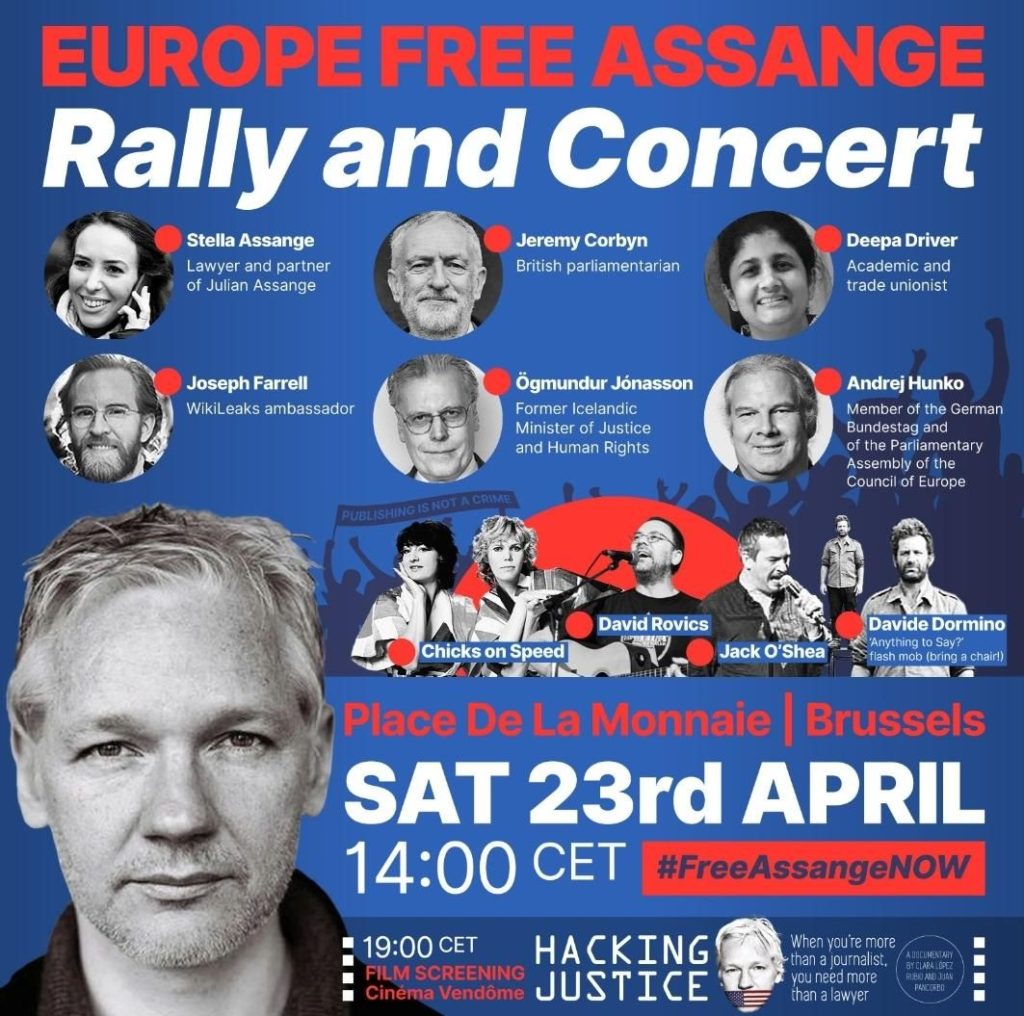 Journalism is not a crime – Freedom for Julian Assange!
The Assange case is already having a negative impact on our European values. Human rights and the rule of law are not defended by Europe's parliaments. The human being Julian Assange is held without conviction in solitary confinement and is psychologically tortured for years in London. The political prisoner Julian Assange is to be extradited to the USA, which was already planning his murder. A precedent is set and the arbitrarily applicable criminalization of investigative journalists, whistleblowers and publicists is established. Without free reporting (freedom of the press) and free information obtaining, we European citizens are left in the dark!
To counter this, activists have called the "Free Assange Wave" to Brussels. Already now, many well-known and impressive personalities are at the start.
An open air concert by well-known artists from the band Chicks on Speed will make a splash, Davide Dormino will motivate us with an installation of the 50 chairs, and we look forward to talks by, among others, Stella Moris – lawyer and partner of journalist Assange, Dr. Deepa Driver – trade unionist and justice observer, Ögmund Jónasson – former Icelandic Minister of Justice and Human Rights, Joseph Farell – Wikileaks ambassador and journalist, Jeremy Corbyn – British parliamentarian, Stefania Maurizi – Italian investigative journalist involved in all Wikileaks publications.
Organizations and associations – including: Reporters Sans Frontières, International Federation of Journalists, Amnesty International, DEA – Don't Extradite Assange, Free Assange.eu, AllForAssange – Nationwide Vigil Movement support this celebration and join us in demanding the immediate release of Julian Assange.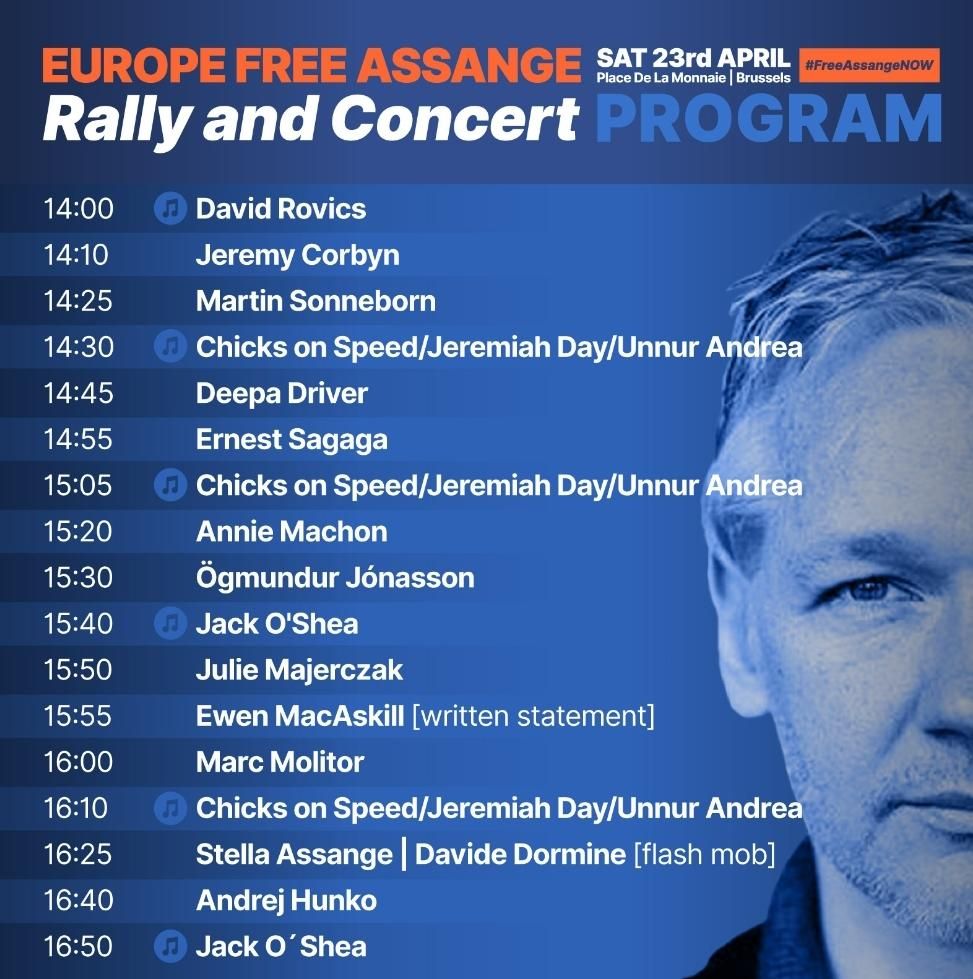 ---
Exciting events in the run-up
In the run-up to the EU Free Assange Rally, an online webinar by Don't Extradite Assange will take place on March 24 at 19:30 (CET). Among others, EU Parliamentarian S. Kouloglou and former Icelandic minister Ögmund Jonasson will speak about what to expect from the upcoming event.
Lectures will be held at the Free University of Brussels (ULB) on April 22 at 19:30 (CET). Announced so far are Dr. Deepa Driver and Jeremy Corbyn. (last updated 3/16/2022)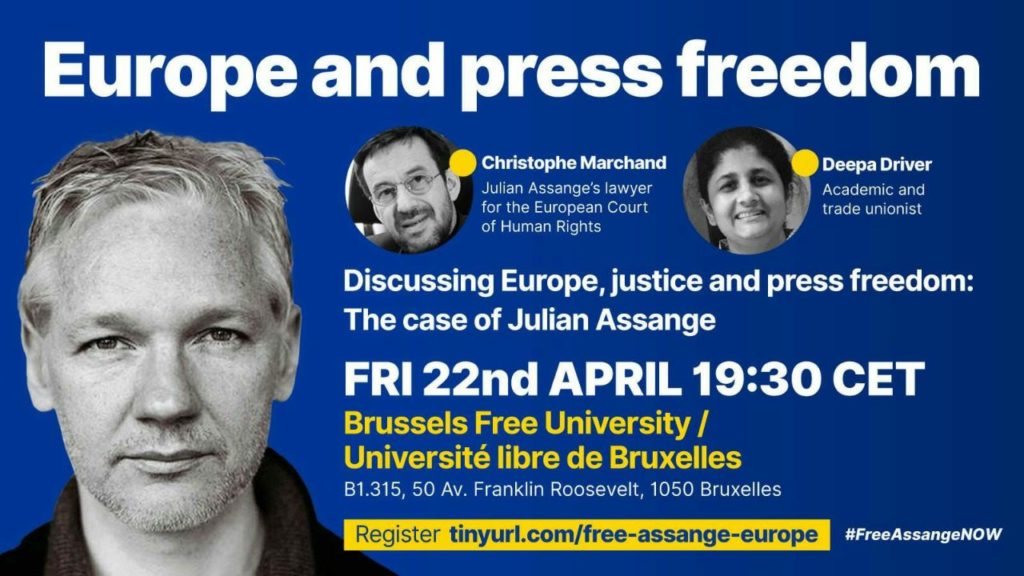 How to reach us?
CONTACT: freeassangewave@gmail.com | +49 15217817206
https://www.assangewave.com

Flyer for the event: Download (588 KB)
Download your banner: http://somersetbean.com/free-assange/

Social media hashtag: #EUFreeAssangeRally
#ShakeUpEUParliament #EUParlamentAufrütteln
---